Interested in setting up Zwift? You came to the right place!
This post lists the equipment you will need to enjoy riding and training in this engaging platform for cyclists, triathletes and runners. We will cover the compatible trainers for cycling and related equipment. In addition, we include helpful videos and links to additional resources.
To get started in Zwift, you will need:
An outdoor or an indoor bike
An indoor trainer such as smart trainers, classic trainers, or rollers (if you are not using an indoor bike)
A computer or an iPhone, iPad or iPod
USB ANT+ stick
Compatible Smart Trainers
If you use your outdoor bike, you will need a "smart" or "classic" indoor trainer. "Smart" trainers are more sophisticated and communicate the power (watts) you produce on the bike to Zwift and automatically vary the resistance to match changing terrain and conditions of the virtual course. This means that if you are climbing a hill on Zwift, the smart trainer will simulate the difficulty of that hill to make it harder for you to pedal.
Moreover, this real time communication between Zwift and the smart trainer provides the most immersive (i.e., fun and "just like in real life") Zwift experience. Most smart trainers connect to Zwift wirelessly via ANT+ using a USB ANT+ stick, or through the Zwift Mobile Link app via Bluetooth Smart (BLE).
Zwift Supported Smart Trainers
If your trainer is not on the list below check the official
Zwift Supported Trainers List
Wahoo KICKR Core
Wahoo KICKR SNAP
Racermate Computrainer
CycleOps Hammer Direct Drive Trainer
CycleOps H2
CycleOps Magnus
CycleOps M2
CycleOps Powerbeam Pro
CycleOps PowerSync
Tacx Bushido Smart T2780 (needs ANT+ FE-C update)
Tacx Flow Smart T2240
Tacx Flux S
Tacx Flux T2900
Tacx Genius Smart T2080
Tacx i-Genius Multiplayer Smart T2010
Tacx IRONMAN® Smart T2060
Tacx Neo 2
Tacx Neo Smart T2800
Tacx Vortex Smart T2180 (needs ANT+ FE-C update)
Tacx Vortex Smart T2180 TDF-EditionBkool Classic (needs ANT+ FE-C update)
Bkool Smart Pro (needs ANT+ FE-C update)*
BKOOL Pro 2 (needs ANT+ FE-C update)*
Elite Real wired trainers (most models after ~2006)
Elite Direto
Elite Drivo
Elite Drivo II
Elite Novo Smart
Elite Qubo Digital Smart B+
Elite Rampa
Elite RealAxiom B+
Elite RealTour B+
Elite Real Turbo Muin B+
Elite Real E-motion Smart B+ rollers
Elite Arion Digital Smart B+ rollers
Elite RealPower USB wired**
Elite RealTour USB wired**
Elite RealAxiom USB wired**
Kinetic Rock and Roll | Smart Control
Kinetic Road Machine | Control
Kinetic Road Machine | Smart Control
Kinetic Smart Control Power Unit
TechnoGym
Magnetic Days mde4-25 (ANT+ only)
Minoura Kagura
JetBlack WhisperDrive Smart
Compatible Classic Trainers
Classic trainers typically don't have any electronics, therefore you'll need a separate speed and cadence sensor or a power meter to connect to Zwift. Note that some manufacturers offer an optional sensor that broadcasts power (watts) directly to Zwift.
Zwift supports numerous classic trainers so we won't list them out here. You can find the list of Zwift Supported Trainers by navigating to their support page.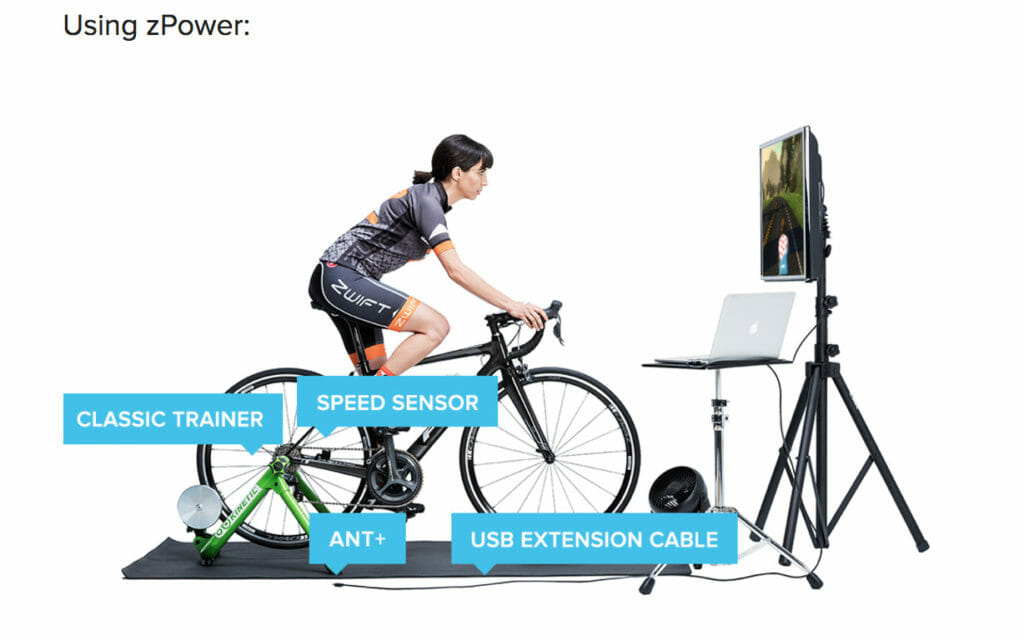 Stationary Indoor Bikes for Zwift
Compatible indoor bikes are Body Bike, Cycleops, Realryder, Schwinn, Stages, Wattbike.
Incompatible Trainers with Zwift
Zwift publishes a list of totally unsupported trainers. As of November 2018 here is their list.
Ellipticals – Not supported
Tacx Non-ANT+ smart trainers, including the Bushido – Closed system.
Tour de France Bike – Doesn't transmit wattage.
Pre-2015 CycleOps Indoor Cycles – Closed system.
CycleOps The Silencer Direct Drive Trainer – Requires a power meter.
CycleOps Phantom 5 – transmits power, but doesn't change resistance/can't shift
JetBlack WHISPERDRIVE – Requires a power meter.
Elite Qubo Digital – Transmits on ANT, not ANT+.
Keiser M3i – Only transits on BLE, and isn't compatible with Zwift BLE yet.
Kettler stationary bikes – Not compatible yet.
Lifecycle stationary bikes – Doesn't transmit wattage
Kinetic Pro Flywheel – This alters the zPower curve for the Kinetic trainers, and isn't compatible.
Garmin Vivoactive Watches – Not compatible as a HRM with Zwift.
Daum 8008 Ergo Bike – Doesn't transmit wattage
Racermate Velotron: Closed system.
Elite Crono Force Inertial Elastogel Trainer: No zPower curve.
Lemond Power Pilot I and II: Doesn't transmit a signal.
Connecting your trainer or bike to the computer
Zwift uses industry standard wireless protocols to connect to your devices. As such, you will need a USB ANT+ stick to wirelessly connect your devices to Zwift. In addition, we recommend using a USB extension cable to place the ANT+ stick close to your devices to prevent signal drops.
Further, Zwift connects to your Bluetooth enabled devices through the Zwift Mobile Link companion app on your phone (power meters, cadence sensors, and heart rate monitors). Make sure that your phone is on the same Wifi network as your computer.
Lastly, for the companion app, you will need the iPhone SE, 5S or higher, iPad Air or higher, iPad Pro, iPad Mini 2 or higher, or iPod 6.
Computer requirements for Zwift
You can use Apple and Windows computers, and it is recommended that you use a good graphics card or GPU for better resolution and smoother graphics. Here is what Zwift recommends directly from their Device Requirements Setup page.
Other Helpful Information
I have included several helpful videos on how to assemble your Zwift station below. There is also a very comprehensive Zwift unofficial user manual. Check them out!
The Best Indoor Cycling Setup according to GCN
Connecting Ant+ Dongle to Zwift Software
Zwift Setup on a Budget